RubyLace
Beaded Needle Tatting &nbsp

Claying Around
*experiments in clay bead fun

Tatted/Beaded Motif Inst.

Needle Tatted Brac. *wallpaper doesn't print* just instructions print
2color split ring needle tatting instruct.

'Blue Dutch' Peyote stitch(spiral ornament with instructions)
'Mermaid's Watch'3/19/2000 Freeform Peyote stitch (tutorial links and step by step pics)
Daisy Chain Instructions with picture (printable)
FREE PATTERN

African Netted Necklace and instructions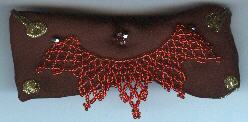 African Netted Party Barrette

Dark Garnet Beaded neck-
lace Instructions for Beads and Garnets

Unakite Cab Necklace
Instructions Page

Pictured steps for Unakite
Cab necklace

Unakite Ruffly bracelet and Earrings intructions.

Bead Software and free Parrot pattern
'Skyler Blue'(design colaboration with my son Skyler Addis on Jan 1,2000

Grapevine Peyote
Bracelet pattern and instructions.