Donna's Dreams
'Mermaid's Watch'


The design of the watch is My idea of the question of what time is it?
watch is a Huichol Mandala stitch that I modified.
Mermaid is realeasing an egg(freshwater pearl) symbolizing the beginning of Spring 3/19/2000
Made with Japanese Seed Beads in 11/o and 14/o
Emebellished with freshwater pearls and Mother of Pearl,
laboradorite chips, smokie crystalsAquamarine chips
Designed and beaded by Donna Addis
Done in Freeform Peyote with links to tutorials.
from Out on a Whim!
Thanks to Anne Checker of CheckerBeads for the Mermaid Pattern
Thanks to Dawn Star for her Huichol Stitch tutorial
From Her 'One Bead at a Time Vol. II' book!

---

Here is the developement of the Mermaid's watch
started with the basic freeform peyote added to Huichol St. medallion.



then made the Mermaid from Anne's pattern and tutorial out of size 14/o's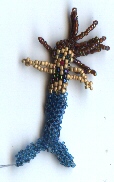 then attached her to the watch


then began to Embellish her in pearls and crystals and mother of pearl and more beads.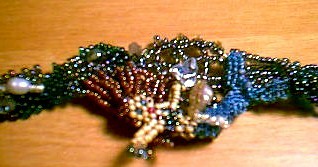 and some close ups of the wristbands.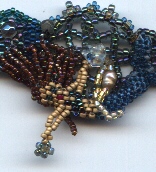 I encourage you to use your imagination and PLAY BEADS!
If you are interested in Mermaids and Sea-beaded items and others of like interest
Join the BeadyBeachBums
and visit Serenity by Design for a real treat!
---

This was so fun to do! Lemmeno whatcha think!
Donna/aka/Beadle